XTL6555 series zoom stereo microscopes have a biggish zoom ratio, magnification from low to high non-flash in focusing course, large depth of field, and long working distance. it has many kinds of attachments. It can match many stands and universal stands. The trinocular main body can connect CCD (COMS) camera, a digital camera. Many kinds of eyepieces, divisional eyepieces, and auxiliary objectives can satisfy the demands of checking up, measuring, and analysis in modern biology, medicine, environment, agriculture and forestry, chemistry industry, police, micro-electronics, semiconductors, etc. fields. It is widely used in schools, biology engineering and science research, industry assembles, tests, and measures and controls the quality.
| Main Specification of XTL6555 Series Zoom Stereo Microscope
Binocular & Trinocular Head Angle of Viewing
45°
Zoom Ratio
1:8.5
Eyepiece
WF10X23mm
Objective
0.65X-5.5X
Magnification
6.5X-55X
Interpupillary Distance Adjustment Range
54-75mm
Working Distance
110mm
J1 Pillar Sector Base
No Light
Size: 285 x238mm
J2 Vertical Sector Base
No light
Size: 285 x238mm
J3 Vertical Sector Base
Up-down LED light
Size: 285 x238mm
J4 Pillar Sector Base
Up-down LED light
Size: 285 x238mm

| Optical Data of XTL6555 Series Zoom Stereo Microscope
Eyepiece
Standard(1X objective)
Auxiliary 0.5X Objective
Auxiliary 1.5X Objective
Auxiliary 2.0X Objective
W.D.=100mm
W.D.=165mm
W.D.=45mm
W.D.=30mm
Magnification
Field of View
Magnification
Field of View
Magnification
Field of View
Magnification
Field of View
WF10X/23mm
6.5X
33.85mm
3.25X
67.7mm
9.75X
22.57mm
13X
116.925mm
55X
4mm
27.5X
8mm
82.5X
2.67mm
110X
2mm
WF15X/15mm
9.75X
24.62mm
4.875X
49.24mm
14.625X
16.41mm
19.5X
12.31mm
82.5X
2.91mm
41.25X
5.82mm
123.75X
1.94mm
165X
1.46mm
WF20X/10mm
13X
18.46mm
6.5X
36.92mm
19.5X
12.31mm
26X
9.23mm
110X
2.2mm
55X
4.4mm
165X
1.47mm
220X
1.1mm
| Technical Specifications of XTL6555 Series Zoom Stereo Microscope
Items
XTL6555-J1
XTL6555-J2
XTL6555-J3
XTL6555-J4
Main body (Built-in 1X objective)
●
●
●
●
Head
Binocular head
●
●
●
●
Trinocular headlight distribution: 50:50
O
O
O
O
Eyepiece
WF10X/23mm
●
●
●
●
WF15X/15mm
O
O
O
O
WF20X/10mm
O
O
O
O
Additional Objective
0.5X
O
O
O
O
1.5X
O
O
O
O
2X
O
O
O
O
Focusing unit
Coarse focus knobs
●
●
●
●
Illumination
No light
●
●
Up-down 3WLED light
●
●
Note: "●" is standard outfits, "O" is optional outfits
Packing Size: 52*29.5*42cm, Gross weight: 6kgs, Net weight: 5kgs
| Different Types of Brackets
XTL6555 series stereo microscopes can be equipped with single and double universal brackets. There are many types of brackets that can be matched with this product. Please check with our sales staff for the specific style you need.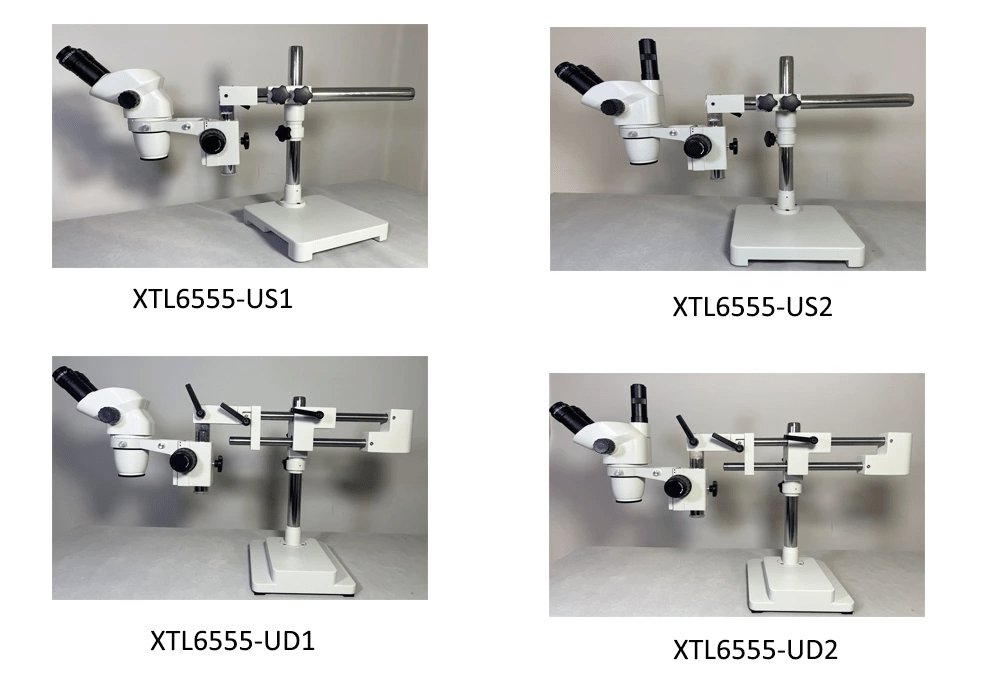 | Why Choose Us?
The XTL6555 stereo microscope is the one with the highest magnification that we currently sell. It can meet most of the amplification needs in the market.
The product has a variety of base styles, which can be selected and matched according to needs. This needs to be clarified before purchasing.
This product can not only be used in laboratories but can also be used in some electronic industries, textile industries, etc. in colleges and universities. Powerful and stable performance.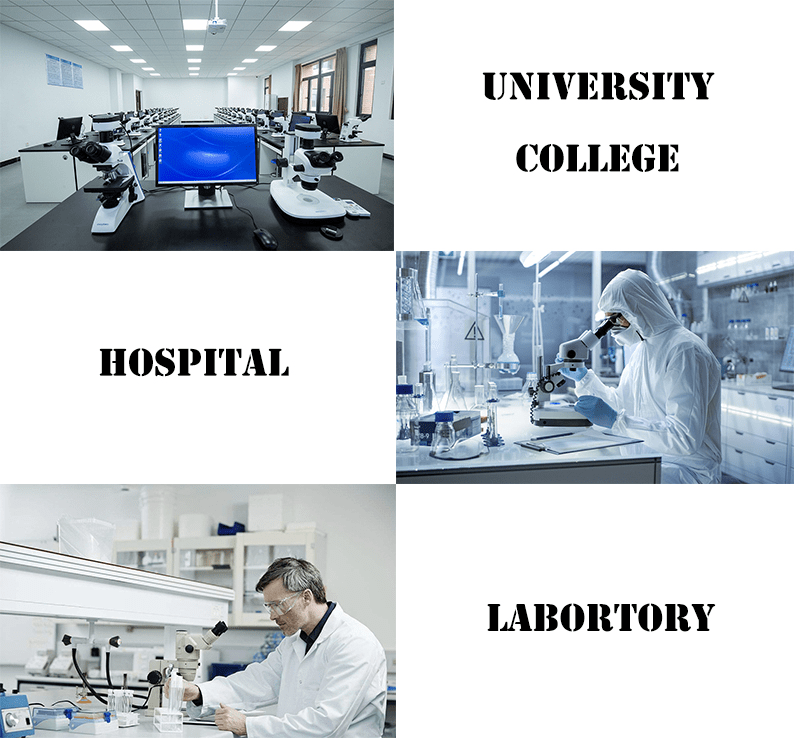 | FAQ