| Features of XCAMLITE1080PA HDMI Camera
For details of the camera operations, please check XCAMLITE1080P's operation manual.
The XCAMLITE1080PA HDMI camera is intended to be used for the acquisition of digital images from the stereo microscope, biological microscope, or online interactive teaching. It is a kind of microscopy camera. The basic characteristic is listed below:
Sony Starvis back-illuminated CMOS sensor
1080P HDMI video outputs
SD card for the captured image and video storage
Embedded XCamView for the control of the camera
With strong ISP and other related processing functions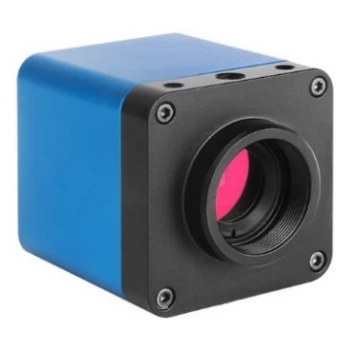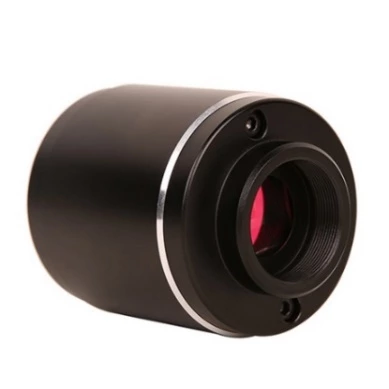 XCAMLITE1080P Series Camera
| Datasheet and Functions of XCAMLITE1080PA HDMI Camera
| | | | | | | |
| --- | --- | --- | --- | --- | --- | --- |
| Order Code | Sensor & Size(mm) | Pixel(μm) | G Sensitivity | FPS/Resolution | Binning | Exposure(ms) |
| XCAMLITE1080PA XPLITE1080PA | Sony IMX307(C)1/2.8″(5.57×3.13) | 2.9×2.9 | 1300mv with 1/30s | 60@1920*1080(HDMI) | 1×1 | 0.01~1000 |
C: Color; M: Monochrome;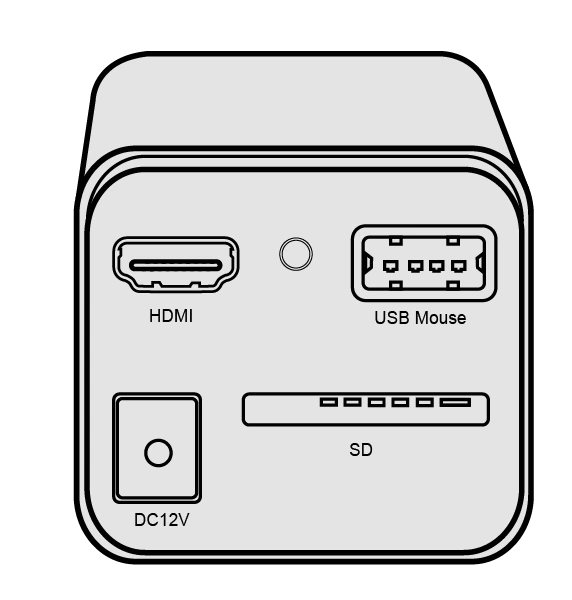 Interface and Button
Function Description
HDMI
Comply with HDMI1.4 standard. 1080P format video output for standard FHD displayer
LED
LED status indicator
USB Mouse
Restore camera parameters to their factory status
DC12V
Power adapter connection (12V/1A)
SD
Comply with SDIO3.0 standard an SD card could be inserted for video and image storage
Video Output Interface
Function Description
HDMI Interface
Comply with HDMI1.4 standard; 60fps@1080P
Other Function
Function Description
Video Saving
Video format:2M(1920*1080) H264 encoded MP4 file;Video saving frame rate:50~60fps (related with SD card performance);
Image Capture
2M (1920*1080) JPEG image in SD card
Measurement Saving
Measurement information is saved in different layers with image content; Measurement information is saved together with image content in burn-in mode.
ISP Function
Exposure(Automatic / Manual Exposure) / Gain, White Balance(Manual / Automatic / ROI Mode), Sharpening, 3D Denoise, Saturation Adjustment, Contrast Adjustment, Brightness Adjustment, Gamma Adjustment, Color to Gray, 50HZ/60HZ Anti-flicker Function
Image Operations
Zoom In/Zoom Out, Mirror/Flip, Freeze, Cross Line, Overlay, Embedded Files Browser, Video Playback, Measurement Function
Embedded RTC(Optional)
To support accurate time on board
Restore Factory Settings
Restore camera parameters to its factory status
Multiple Language Support
English / Simplified Chinese / Traditional Chinese / Korean / Thai / French / German / Japanese / Italian / Russian
Operating Environment
Operating Temperature (in Centidegree)
-10°~ 50°
Storage Temperature (in Centidegree)
-20°~ 60°
Operating Humidity
30~80%RH
Storage Humidity
10~60%RH
Power Supply
DC 12V/1A Adapter
| Advantages of HDMI Camera
HDMI cameras have several advantages over traditional analog cameras, including:
Higher resolution: HDMI cameras can produce higher resolution images and videos than analog cameras. This is important for applications where fine detail is important, such as medical imaging and machine vision.
Digital signal: HDMI cameras transmit a digital signal, which is less susceptible to noise and interference than an analog signal. This results in clearer, sharper images and videos.
Easy to use: HDMI cameras are typically easier to use than analog cameras. They often have simple plug-and-play functionality, and they can be connected to a variety of devices, such as TVs, monitors, and computers.
Versatility: HDMI cameras are versatile and can be used for a wide range of applications.
| Application Configurations of XCAMLITE1080PA HDMI Camera
For the HDMI application, apart from the microscope, the user only needs an HDMI displayer, the supplied USB mouse, and the camera-embedded XCamView software. The steps to start the camera are listed below: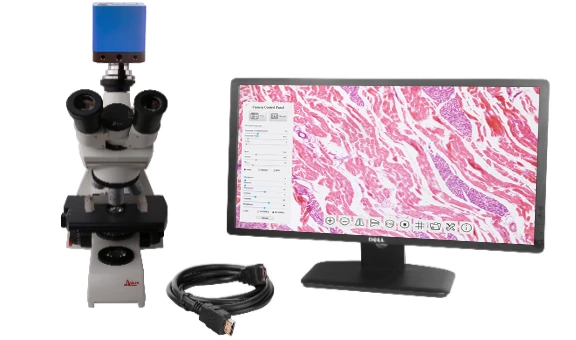 Connect the camera to a HDMI displayer using HDMI cable;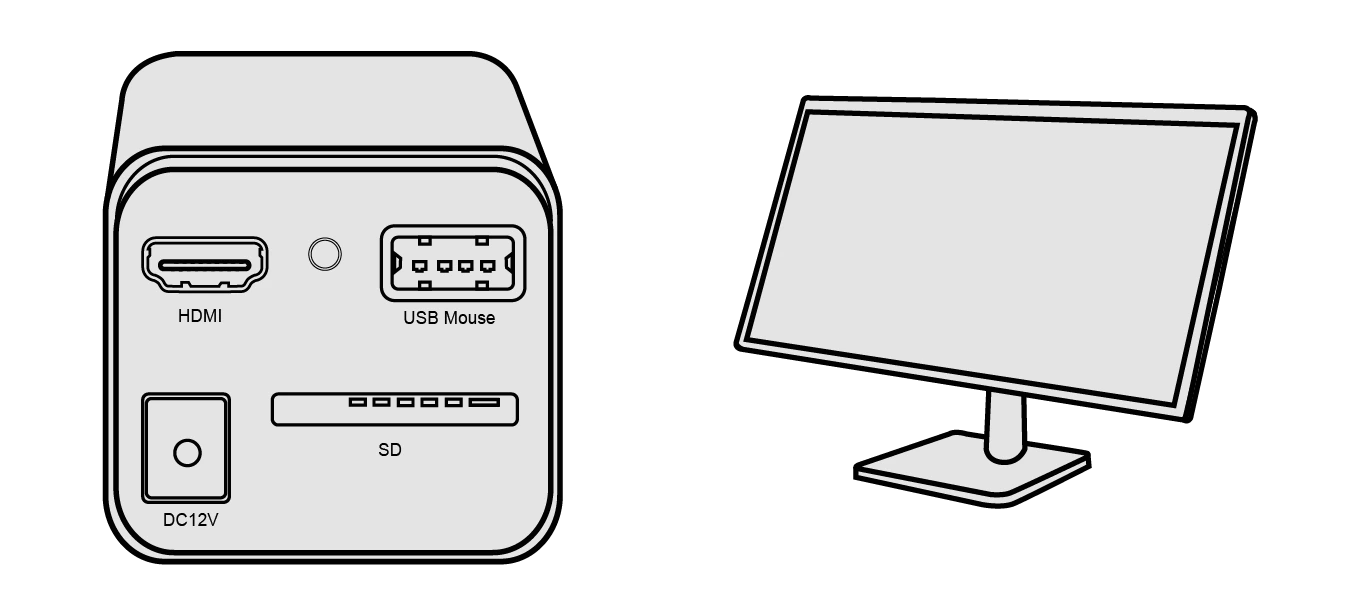 Insert the supplied USB mouse to the camera's USB Mouse port;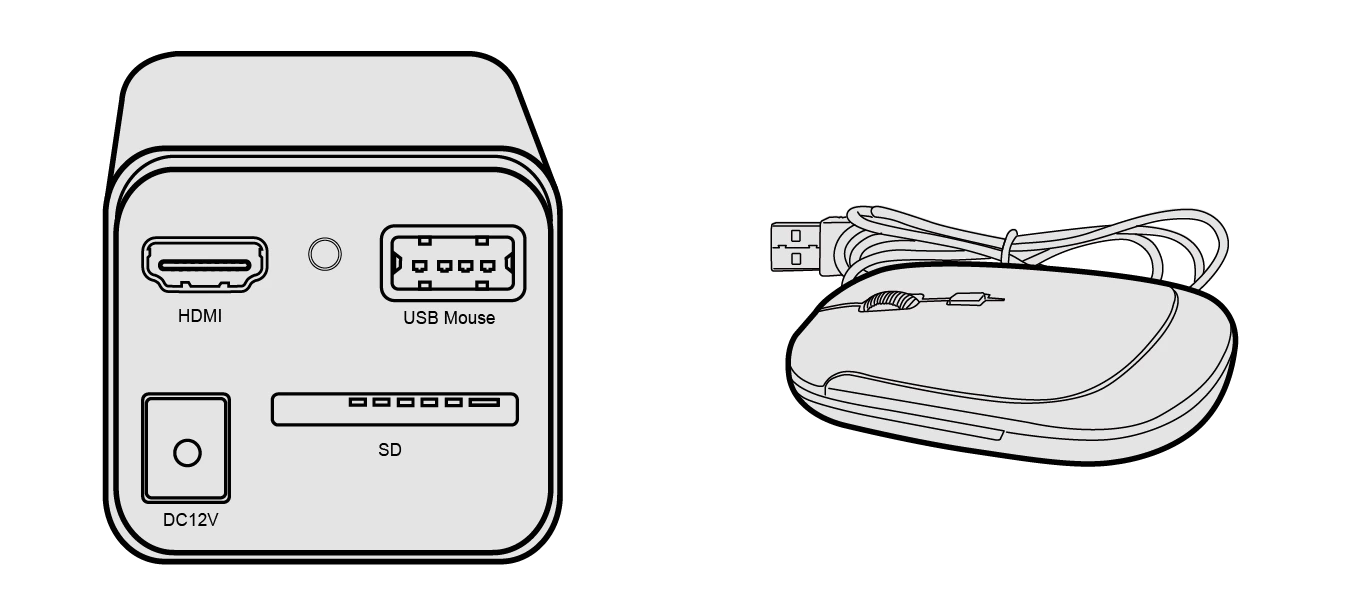 Insert the supplied SD card into the HDMI camera SD card slot;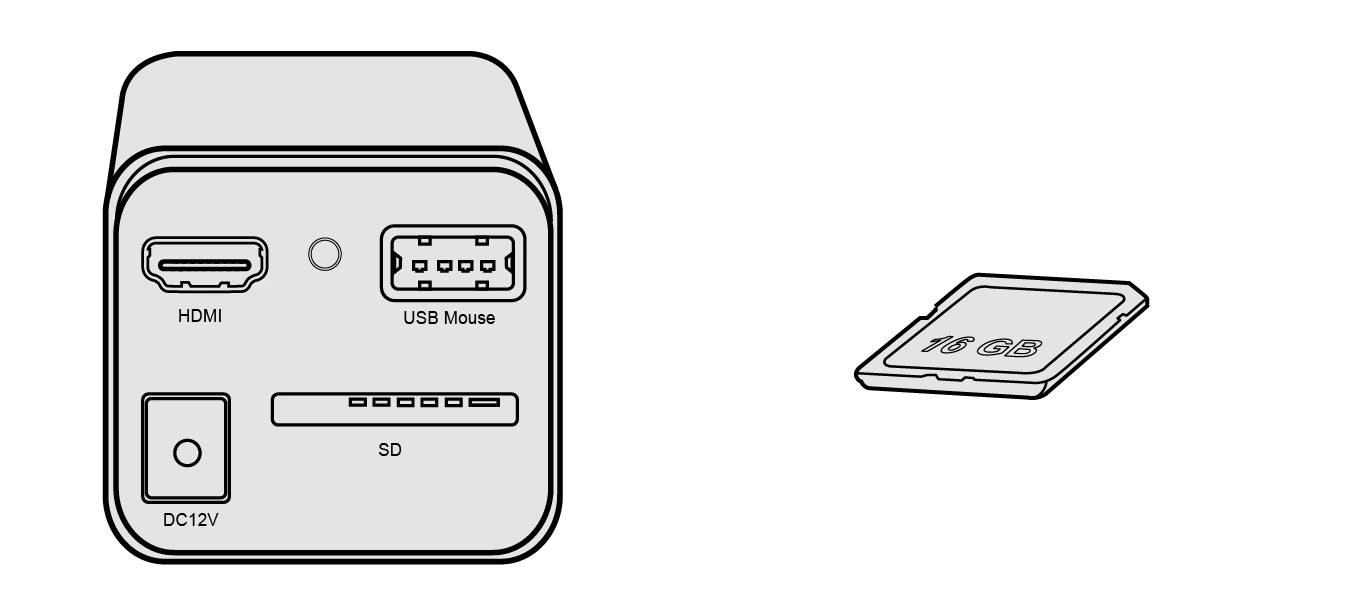 Connect the camera to the DC 12V power adapter and switch it on;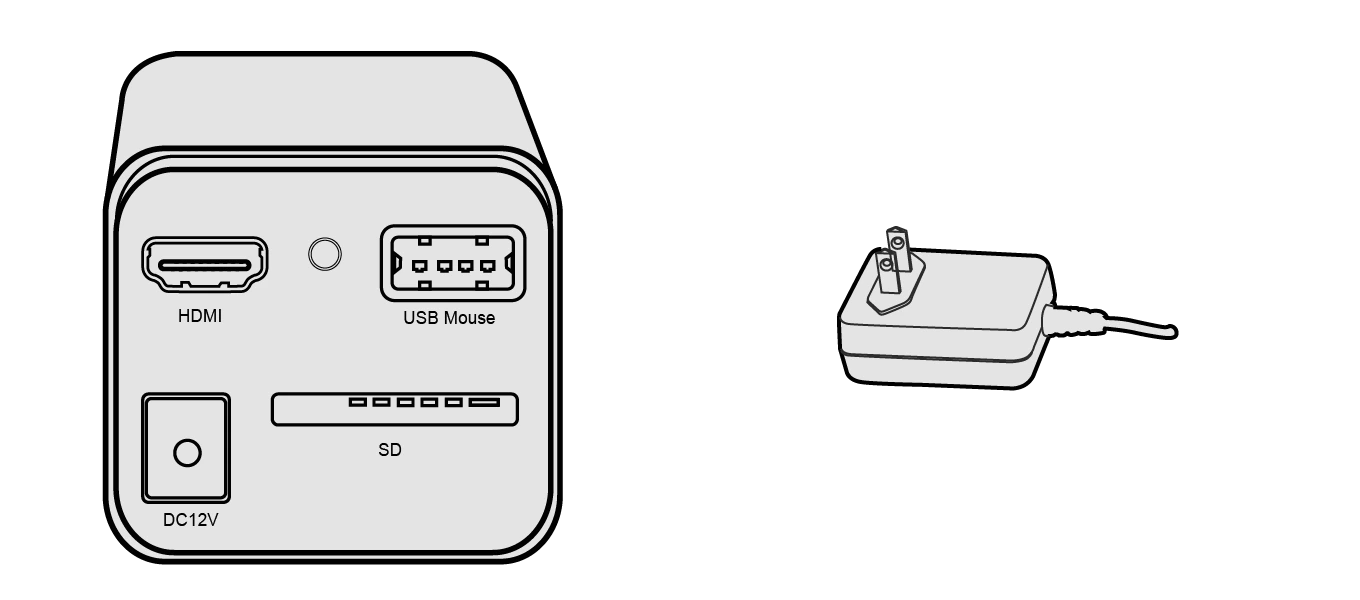 Turn on the displayer and view the video in the XCamView software. Move the mouse to the left or bottom of the XCamView UI, a different control panel or UI will pop up and users can operate with the mouse with ease.
| Packing Information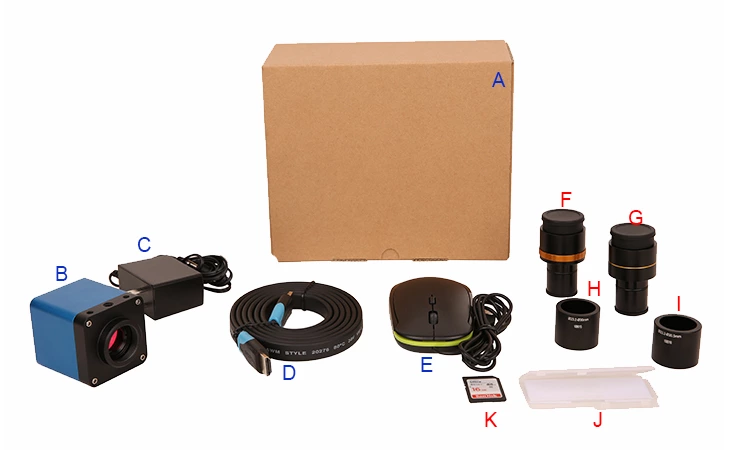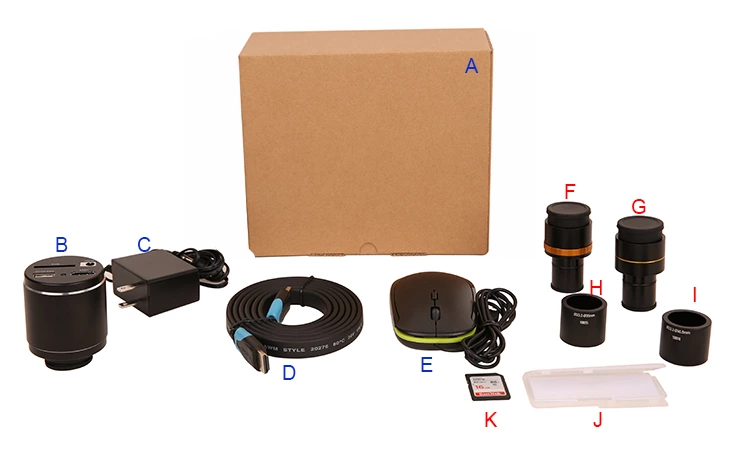 Packing Information(Square and Cylinder-shaped)
Standard Packing List
A
Gift box : L:17.4cm W:17.4cm H:7.6cm (1pcs,0.54kg/ box)
B
A XCAMLITE1080P series camera
C
Power Adapter: Input: AC 100~240V 50Hz/60Hz, Output: DC 12V 1AAmerican standard: Model: GS12U12-P1I 12W/12V/1A: UL/CUL/BSMI/CB/FCCEuropean standard:Model: GS12E12-P1I 12W/12V/1A; TUV(GS)/CB/CE/ROHSEMI standard: EN55022, EN61204-3, EN61000-3-2,-3, FCC Part 152 class B, BSMI CNS14338EMS standard: EN61000-4-2,3,4,5,6,8,11, EN61204-3, class A light industry standard
D
HDMI cable
E
USB mouse/USB wireless mouse
Optional Accessory
F
Adjustable lens adapter
C-Mount to Dia.23.2mm eyepiece tube
(Please choose 1 of them for your microscope)
108001/AMA037
108002/AMA050
108003/AMA075
G
Fixed lens adapter
C-Mount to Dia.23.2mm eyepiece tube
(Please choose 1 of them for your microscope)
108005/FMA037
108006/FMA050
108007/FMA075
Note: For F and G optional items, please specify your camera type(C-mount, microscope camera or telescope camera), ToupTek engineer will help you to determine the right microscope or telescope camera adapter for your application;
H
108015(Dia.23.2mm to 30.0mm ring)/Adapter rings for 30mm eyepiece tube
I
108016(Dia.23.2mm to 30.5mm ring)/ Adapter rings for 30.5mm eyepiece tube
J
Calibration kit
106011/TS-M1(X=0.01mm/100Div.);
106012/TS-M2(X,Y=0.01mm/100Div.);
106013/TS-M7(X=0.01mm/100Div., 0.10mm/100Div.)
K
SD card
| Sample Photos Captured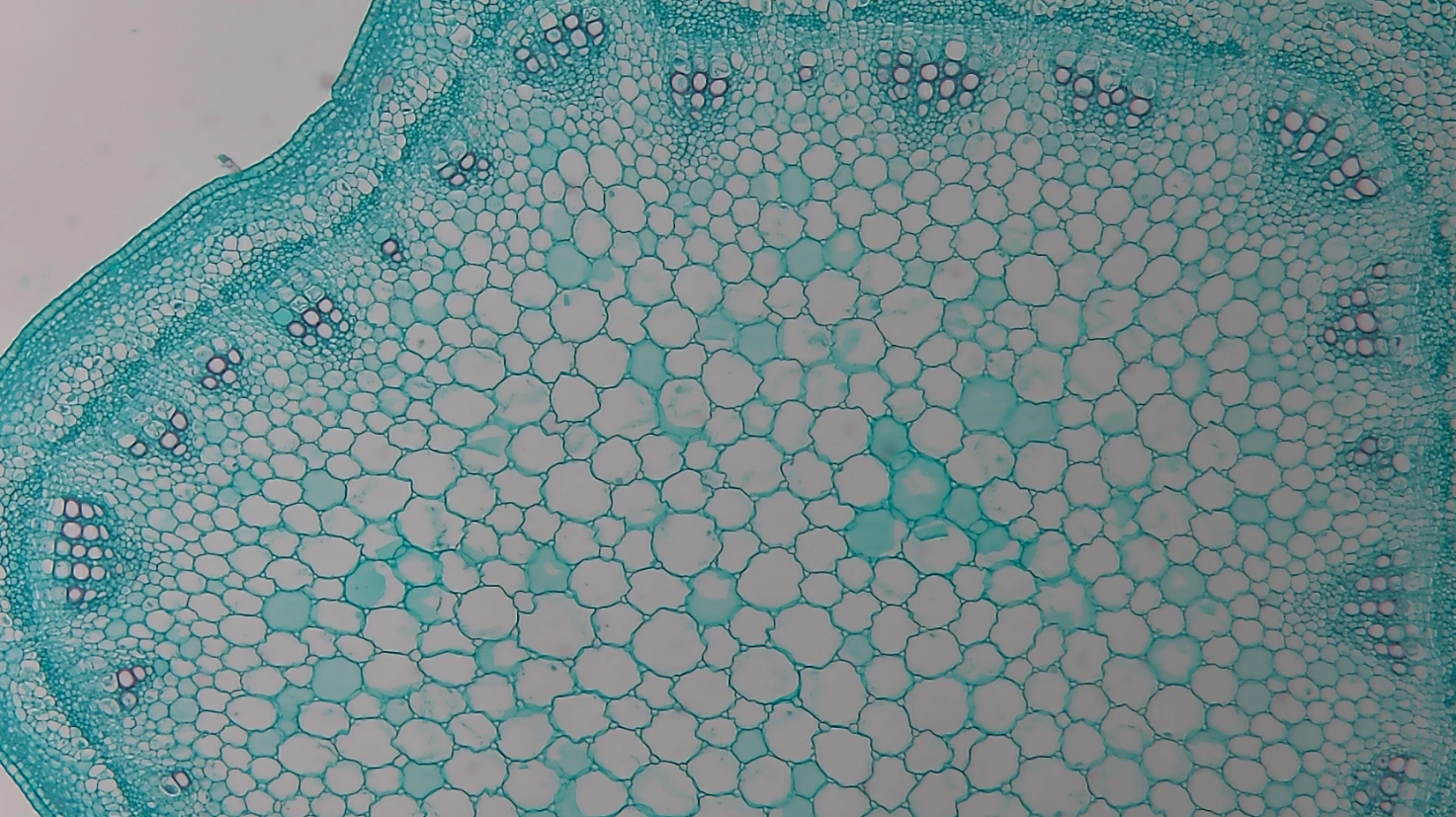 | FAQ