SC-MJ10 Heimlich Maneuver Training Vest (Child)
Service Medical Training
Simulators can adopt a standing posture, and sitting posture, use teaching aids or use counters, tables, and chairs, practice suffocation self-rescue, and first aid, and achieve the teaching purpose of saving a life
Click the button below to contact us:
SC-MJ10 Heimlich Maneuver Training Vest (Child) is a children's model (blue) and is suitable for children's first aid training. It's a kind of emergency training manikin.
Asphyxiation first aid, training wearing vest: accidental suffocation means losing a life! During the anti-suffocation first aid education and training, wear it on the trainees, and practice abdominal compression when the respiratory airway is blocked by foreign objects (i.e. Heim Rick's method), make the correct steps to deal with, squeeze out foreign objects (foam plugs) that block the airway, and the intuitive teaching mode brings students self-efficacy and application effectiveness. Simulators can adopt a standing posture, and sitting posture, use teaching aids or use counters, tables, and chairs, practice suffocation self-rescue, and first aid, and achieve the teaching purpose of saving a life.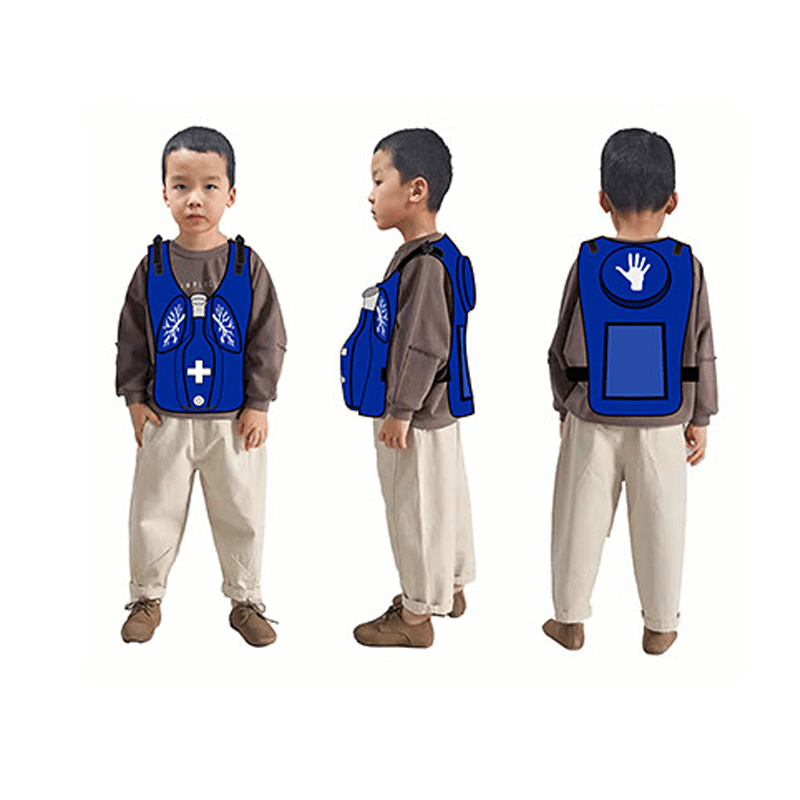 | First-aid Steps
Step 1: Put the ball of foreign matter into the throat of the airway. Stand or kneel behind the patient and wrap your hands around the patient's waist, making a fist with one hand.
Step 2: Press the fisted thumb against the patient's abdomen, on the midline of the abdomen above the navel and below the sternum.
Step 3: Hold the clenched hand with the other hand and quickly impact the patient's abdomen upwards. Repeated rapid shocks until the foreign body is expelled from the airway.
Step 4: Use the round pad for slap training.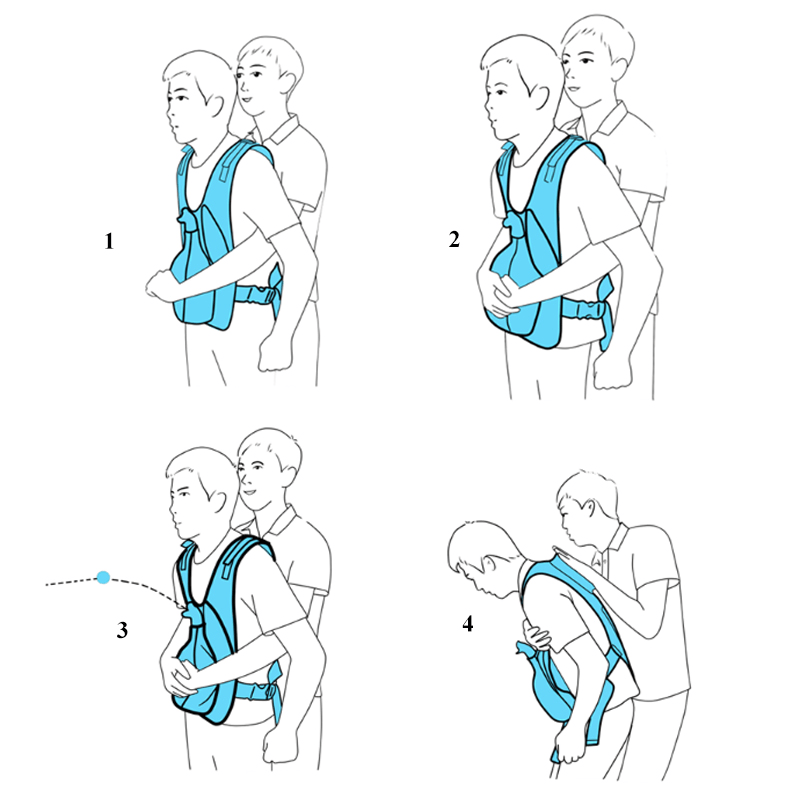 | Advantages of Using a Heimlich Maneuver Training Vest
Realism: The Heimlich maneuver training vest provides a realistic simulation of the Heimlich maneuver. It has a built-in airway obstruction that can be dislodged by performing the Heimlich maneuver. This can help people learn the correct technique and build the muscle memory needed to perform the maneuver in a real-world setting.
Safety: The Heimlich maneuver training vest is safe to use. It is made of soft and durable materials that will not cause harm to the user or the person being rescued.
Portability: The Heimlich maneuver training vest is lightweight and portable. It can be easily carried to training sessions or stored in a first-aid kit.
Affordability: The Heimlich maneuver training vest is relatively affordable. This makes it a cost-effective solution for individuals, families, and organizations.
| Specification of SC-MJ10 Heimlich Maneuver Training Vest (Child)
| | |
| --- | --- |
| Model | SC0MJ10 |
| Color | Blue |
| Size | Child |
| Weight | 1.2kg |
| material | diving fabric, ABS throat, vinyl airbag, plastic buckle |
| Accessory | one piece of the vest, one piece of foreign body plug, one piece of operation guide, and one piece of backpack. |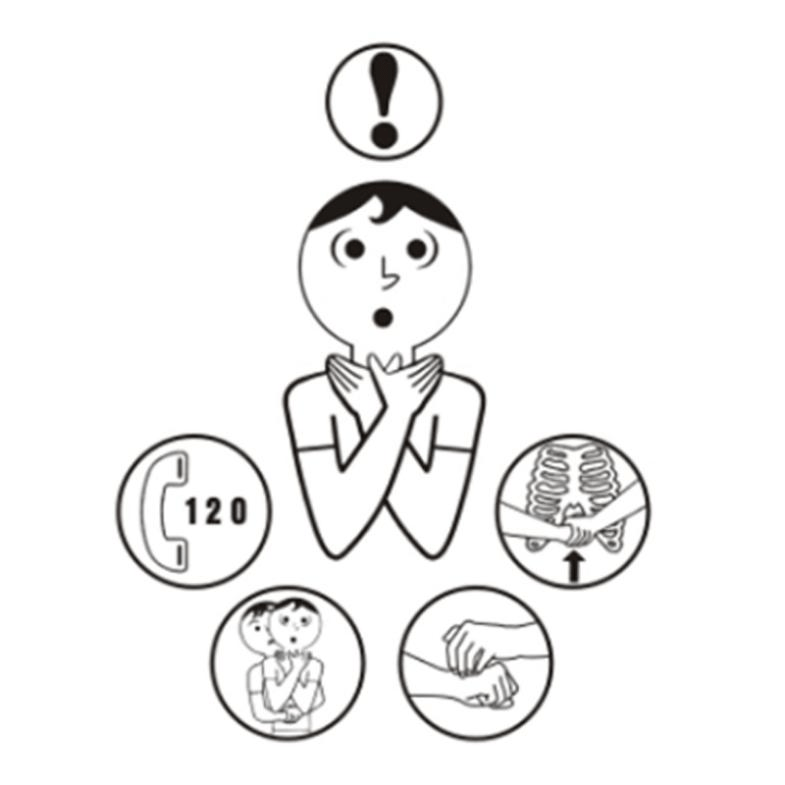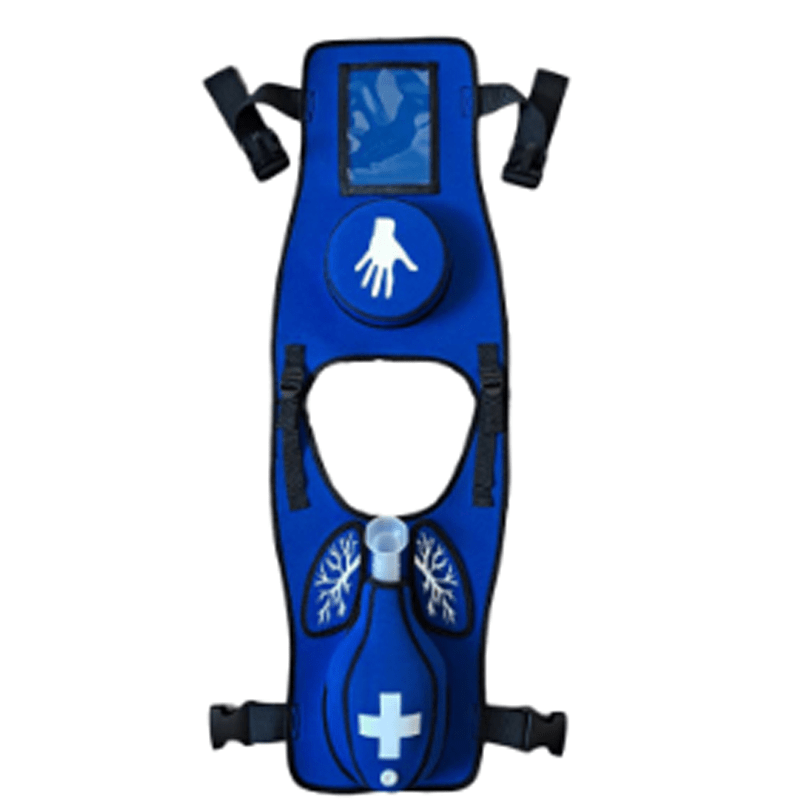 | Packing and Shipment
Our products are packed in standard export cartons and can be wrapped in film or double-layer cartons according to requirements. There are many options for the shipping method, by air, by sea, and by express are all acceptable. Among them, if there is no special requirement, we will give priority to express quotation.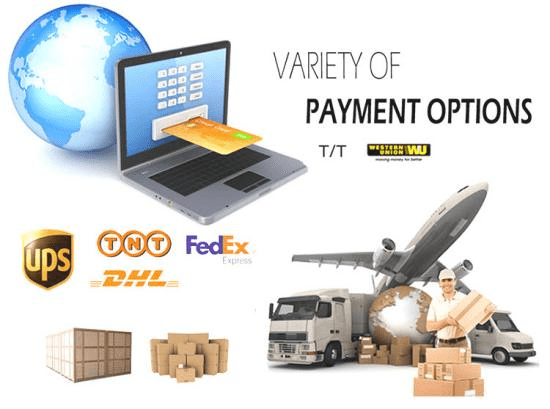 | FAQ