B302E500 digital microscope has a built-in 5MP digital head chip and uses a USB2.0 interface. This kind of digital microscope has evolved and upgraded on the basis of our B302. It adopts an infinity optical system, and the objective lens can be configured according to requirements. Microscopes with built-in digital heads are more convenient to use and can be used directly by connecting to a computer.
| Features of B302E500 Digital Microscope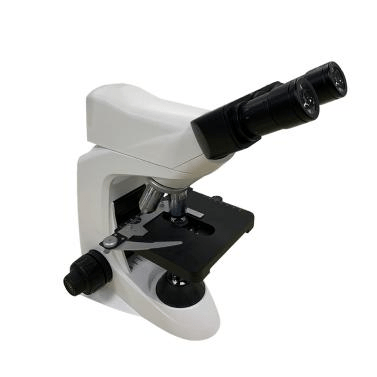 Perfect Optical System
High resolution and perfect definition from infinity correct optical system
100X water objective instead of 100X oil objective, more be convenient for using
Perfect Appearance Design
Drop-style integrated appearance design, looks elegant
Perfect Ergonomics Design
Low position operation, convenient for long-term using
New wound device for cable, easy to move and keeping
The changing of objectives can be watched by the backside through the back-watching window
| Components of B302E500 Digital Microscope
B302E500 Digital Microscope
| B302E500 Digital Microscope Outfits
Items
Specification
B302E500
Main Body
●
Eyepiece
WF10X/20mm (High eyepoint)
●●
Infinity Objective
EPLAN 4X/0.10
○
EPLAN 10X/0.25
○
EPLAN 40X/0.65(S)
○
EPLAN 100X/1.25(S,Oil)
○
PLAN 4X/0.10
●
PLAN 10X/0.25
●
PLAN 20X/0.40(S)
○
PLAN 40X/0.66(S)
●
PLAN 60X/0.80(S)
○
PLAN 100X/1.25(S,Oil)
●
PLAN 100X/1.15(S,Water)
○
Butterfly Head
N.A.1.25, With Iris Diaphragm
●
Nosepiece
Quadplex
●
Mechanical Stage
Size 145mmX140mm, Travel Range:76mmX52mm, Scale: 0.1mm, Two Slide Holder
●
Rackless(Integrated) stage, Size: 140×135mm,Travel Range: 75×35mm,Two-slide holder
○
Abbe Condenser
N.A.1.25, With iris Diaphragm
●
Coaxial Coarse and Fine Focusing Knobs
Coarse Focusing Travel Range: 25mmFine Focusing Travel Range: 2µm/division
●
Aspheric Illumination
3W LED Illumination, Voltage: 100V-240V
●
Dark Field Unit
Dark Field Ring (Dry, N.A.0.9)
○
Polarizing Unit
Analyzer, Polarizer
○
Wire Winding Device
●
Note: "●"In Table Is Standard outfits, "○" Is Optional Accessories.
Packing Size: 345mm×260mm×455mm / Gross Weight: 6.7 kgs / Net Weight: 5.3 kgs
| Factory
Our microscope factory is located in the beautiful mountain city, of Chongqing. The microscope factory is located in the industrial park of Beibei, Chongqing. Covering an area of 500 mu, there are three floors in total. The microscopes produced cover various series of biology, fluorescence, metallography, body, and so on. The production of the products conforms to international standards, and we are an old domestic microscope factory, with quality and technology research and development at the forefront. Each certificate is complete, which is convenient for the export of our products.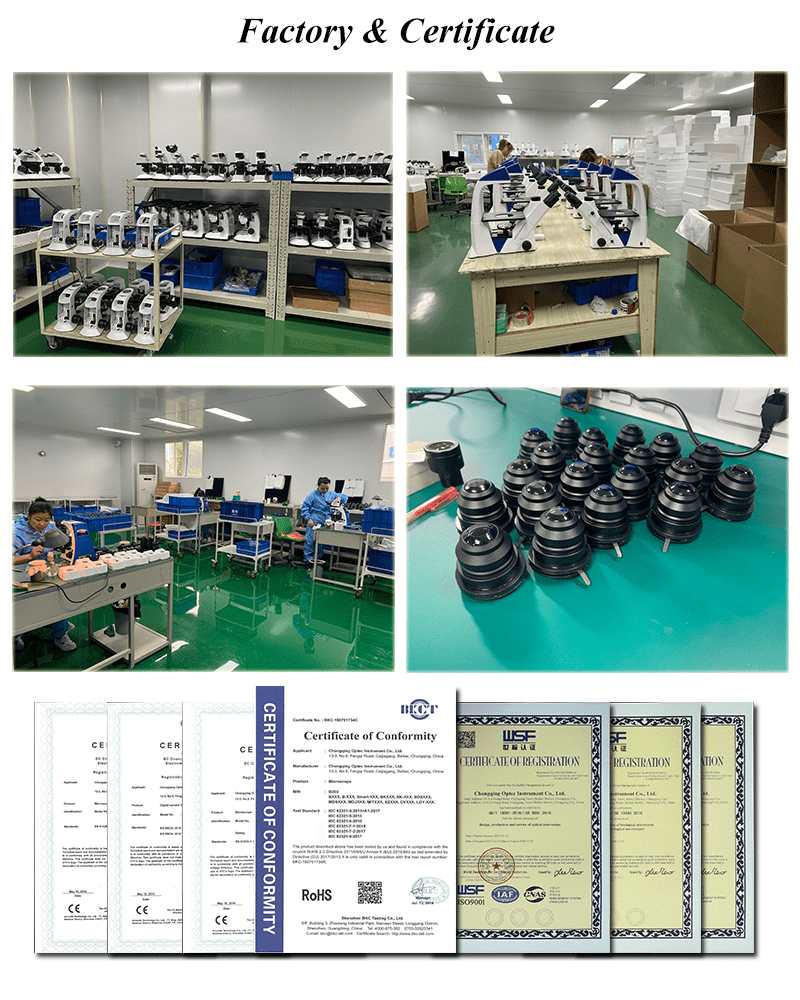 | FAQ