B302 Series Biological Microscope
Infinity optical system
100X water objective instead of 100X oil objective, more be convenient for using
China Design Red Star Award microscope
3W LED low-voltage devices, and the winding device on the back has been changed to a storage device
Low position operation, convenient for long-term using
Click the button below to contact us:
B302 Series Biological Microscope belongs to teaching and research-level biological microscopes. It is a kind of a kind of biological microscope. The infinity optical system is used, which can be upgraded with accessories. There are currently two types of this product, one with Eplan objectives and the other with Plan objectives.
This series microscope adopts the design inspiration of the porpoise crossing the sea, and this shape design won the Red Star Award. There is a carrying handle on the back of the microscope for easy transportation. Now they are all 3W LED low-voltage devices, and the winding device on the back has been changed to a storage device, which can hold plugs and power cords.
| Features of B302 Series Biological Microscope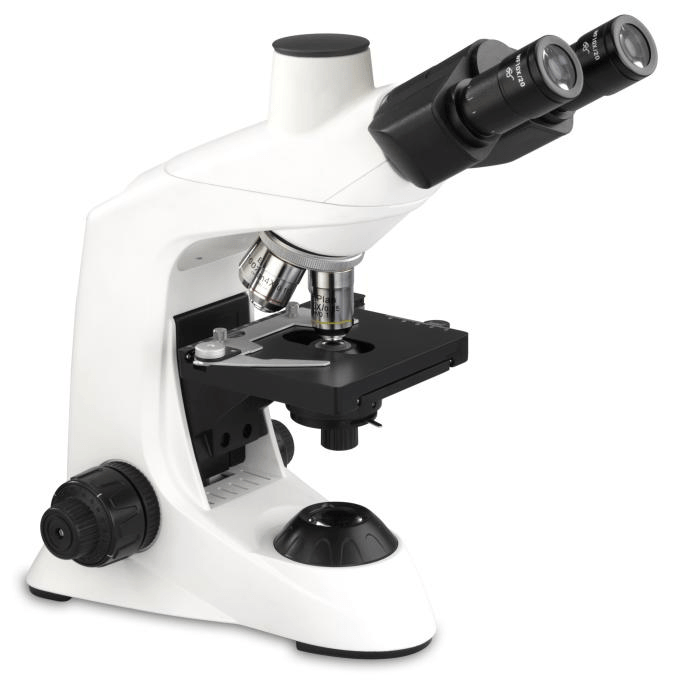 Perfect Optical System
High resolution and perfect definition from infinity correct optical system
100X water objective instead of 100X oil objective, more be convenient for using
Perfect Appearance Design
Drop-style integrated appearance design, looks elegant
Perfect Ergonomics Design
Low position operation, convenient for long-term using
The changing of objectives can be watched by the backside through the back-watching window
| Components of B302 Series Biological Microscope
B302E500 Digital Microscope
| Specifications of B302 Series Biological Microscope
Items
Specification
B302-1
B302-2
Main Body
●
●
Eyepiece
WF10X/20mm (High eyepoint)
●●
●●
Infinity Objective
EPLAN 4X/0.10
●
○
EPLAN 10X/0.25
●
○
EPLAN 40X/0.65(S)
●
○
EPLAN 100X/1.25(S,Oil)
●
○
PLAN 4X/0.10
○
●
PLAN 10X/0.25
○
●
PLAN 20X/0.40(S)
○
○
PLAN 40X/0.66(S)
○
●
PLAN 60X/0.80(S)
○
○
PLAN 100X/1.25(S,Oil)
○
●
PLAN 100X/1.15(S,Water)
○
○
Butterfly Head
Seidentopf Binocular Head, Inclined 30°, Rotatable 360°,Interpupilary Distance: 48-75mm
●
●
Seidentopf Trinocular Head, Inclined 30°, Rotatable 360°, Interpupilary Distance: 48-75mmLight Distribution: 20:80
○
○
5 MP Pixel Digital Head, USB2.01/2''CMOS color sequential scanning. Light Distribution: 20:80
○
○
Nosepiece
Quadplex
●
●
Mechanical Stage
Size 145mmX140mm, Travel Range:76mmX52mm, Scale: 0.1mm, Two Slide Holder
●
●
Rackless(Integrated) stage, Size: 140×135mm,Travel Range: 75×35mm,Two-slide holder
○
○
Abbe Condenser
N.A.1.25, With Iris Diaphragm
●
●
Coaxial Coarse and Fine Focusing Knobs
Coarse Focusing Travel Range: 25mmFine Focusing Travel Range: 2µm/division
●
●
Aspheric Illumination
3W LED Illumination, DC input, Voltage: 100V-240V
●
●
Dark Field Unit
Dark Field Ring (Dry, N.A.0.9)
○
○
Polarizing Unit
Analyzer, Polarizer
○
○
C-mount
1×/0.75×/0.5×C-mount(Adjustable)
○
Note: "●"In Table Is Standard outfits, "○" Is Optional Accessories.
Packing Size: 345mm×260mm×455mm/ Gross Weight: 6.7 kgs /Net Weight: 5.3 kgs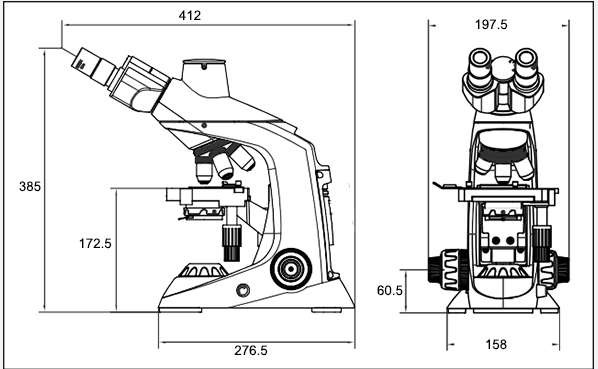 | Packing & Delivery
Our microscopes are packed in cartons. Before delivery, the product will be placed in a foam box according to the packaging requirements, and the product will be bumped and damaged during transportation. Afterward, it will be packed in export-neutral cartons. For a small number of microscopes, it is recommended to use express delivery, and for a large quantity of purchases, you can choose to ship by sea or by air.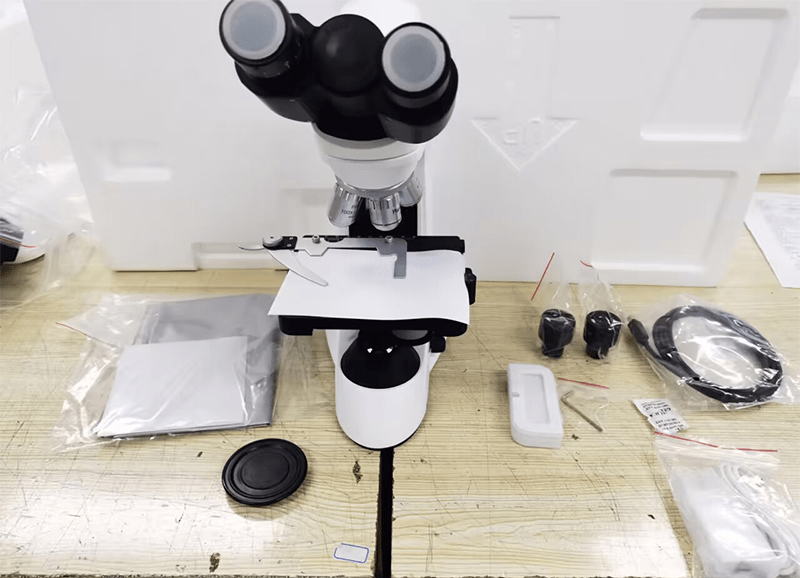 | FAQ