B-POL is a professional polarizing microscope. The monocular shape is simple and stylish, allowing for direct observation. It is suitable for students to use, or those who are beginners in microscopy. B-POL polarizing microscope is equipped with a 0-90° analyzer, and the method of using the product is easy to learn. Our model is the basic model in the polarizing series microscope, with low price, controllable cost, and good observation effect.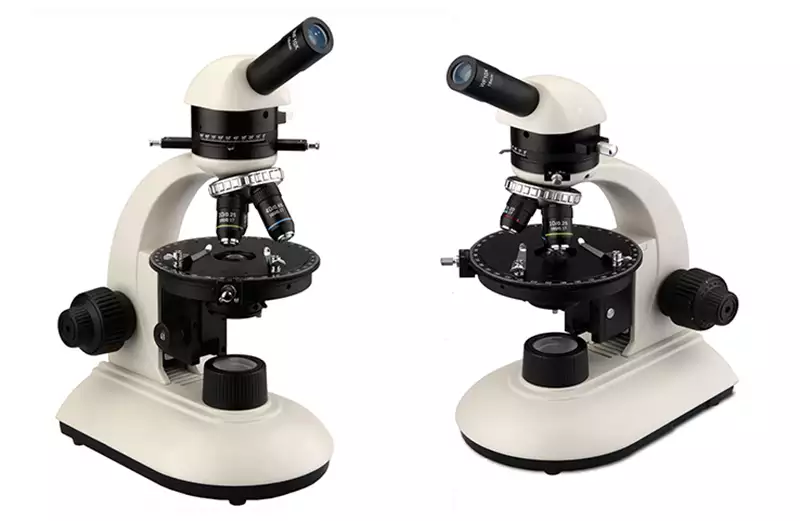 | Features of B-POL Polarizing Microscope
Monocular head, inclined 30 degrees. The angle of the head can be adjusted, the eyepiece is 10X/18mm.
Polarizing microscopes are equipped with analyzers and polarizers, both of which can be moved and rotated.
The objective lens adopts a stress-free finite apochromatic objective lens, including 4X~60X magnification.
Currently, this model only has 3W LED low-voltage DC input models. Safe use of electricity, and easy to connect to the power supply.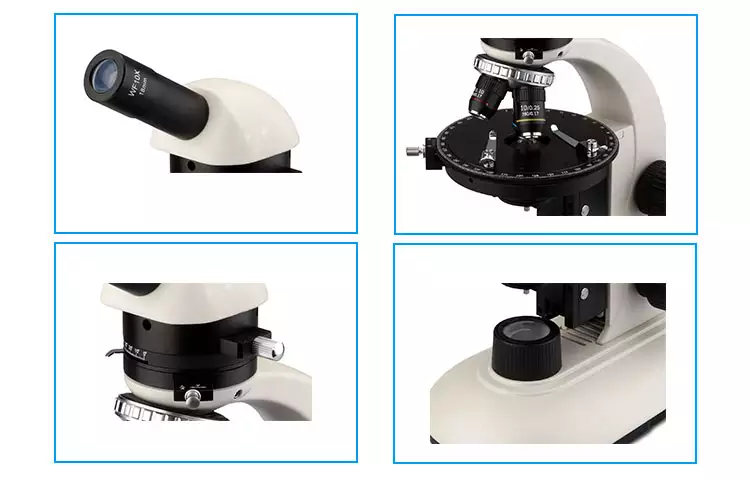 | B-POL Polarizing Microscope Outfits
Items
Specification
B-POL
Eyepiece
WF 10×-18mm (Cross, Reticule 0.1mm)
●
WF 16×-13mm
○
Non-stressAchromatic Objective
4×
●
10×
●
40× (S)
●
20×
○
60× (S)
○
Mono Head
Inclined 30°, Rotatable 360°
●
Nosepiece
Quadplex
●
Analyzer Unit
Rotatable 360°, Division 1°, Vernier division 6', can be locked. Diameter Φ142mm
●
Bertrand Lens
It can be moved out of the optical path.
●
λ Slip
First Class Red
●
1/4λ Slip
●
Quartz Wedge
(Ⅰ-Ⅳ Class)
○
Revolving Round Stage
Rotatable 360°, Division 1°, Vernier division 6', can be locked. Diameter Φ142mm
●
Polarizing Attached Mechanical Stage
○
Condenser
Abbe N.A. 1.25
●
Polarizing Unit
It can be moved out of the optical path.
●
Illumination
3WLED Lamp DC input, wide voltage 100V-240V
●
Note: "●"In Table Is Standard outfits, "○" Is Optional Accessories.
| B-POL Polarizing Microscope Size(mm)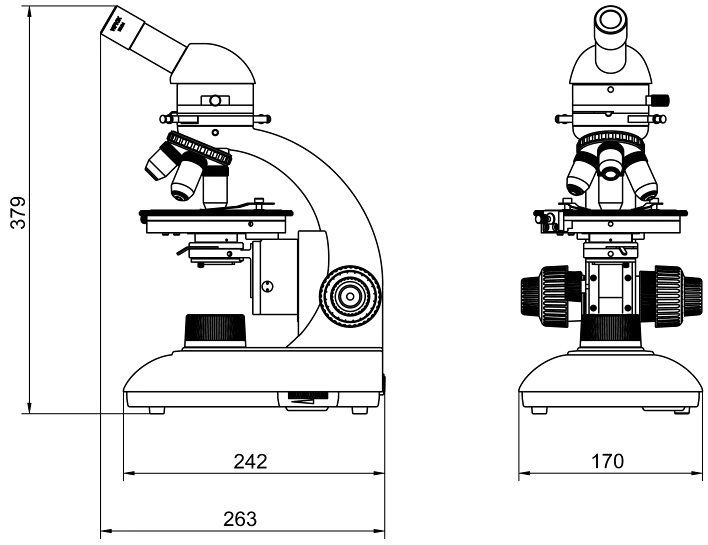 | Package and Delivery
Our microscopes are uniformly packaged in foam and cartons without any logo or nameplate. After packing, it will be shipped by the transportation method confirmed with the customer. We accept sea freight, air freight express delivery, etc. If the customer has his own freight forwarder, it can also be shipped directly to the warehouse of the customer's freight forwarder.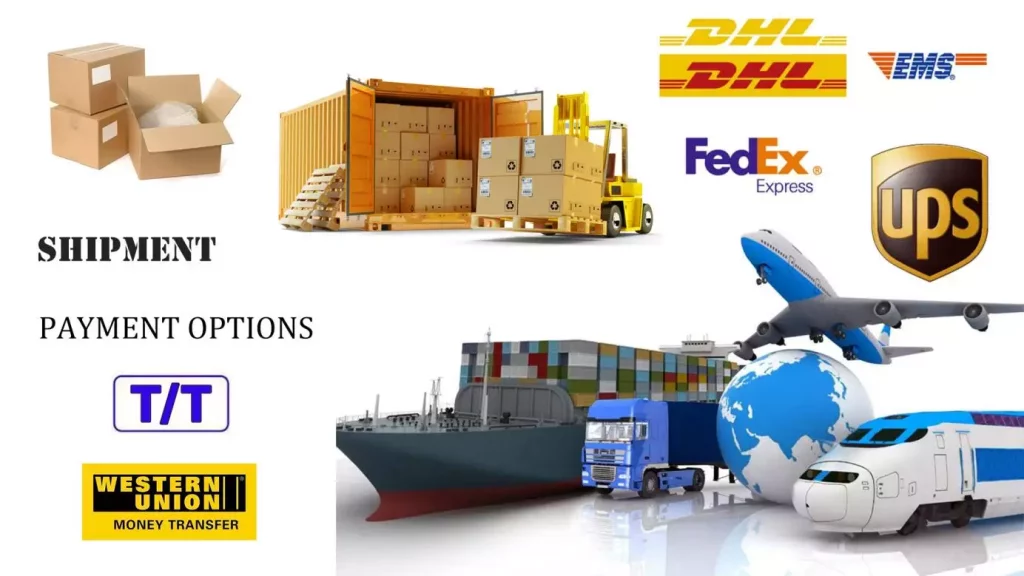 | Factory
This is our own factory, all microscope products are produced in our factory. The factory has a metalworking workshop, an optical workshop, an assembly workshop, and a packaging workshop. The processing machinery used in the metalworking workshop is the Brother brand imported from abroad. The optical workshop is to polish our lenses. The entire assembly workshop is a dust-free workshop to ensure the accuracy of the microscope. In addition to the traditional microscope models, our factory also updates and changes the configuration of these microscopes every year, and produces products for laboratories. In addition, we have various qualification certificates, such as ISO9001, CE, ISO14001, ISO45001, etc.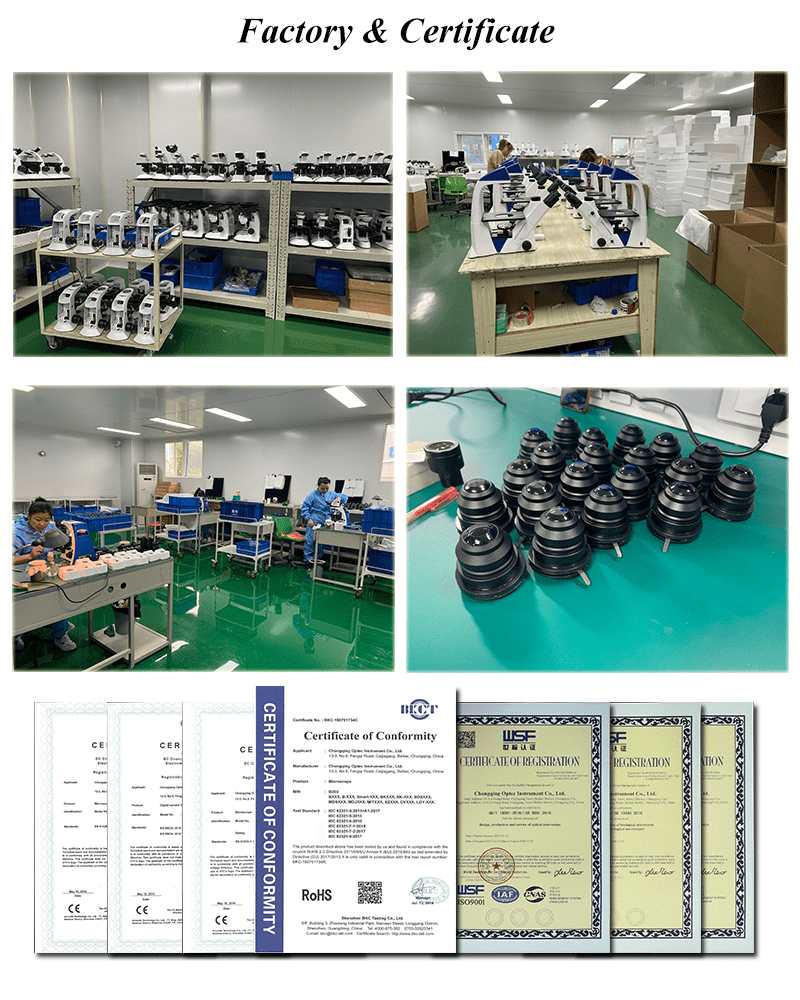 | FAQ